Get up to $75 in rewards for each referral that becomes a TriEagle customer!
Simply have your friends enter your TriEagle Energy account number in the web code box at the beginning of their enrollment. If enrolling over the phone, have your friend provide your account number to the customer service representative.
For each friend you refer you will receive a up to $75 in rewards. It's easy! Give your friends the opportunity to start saving money on their bill while earning rewards! Find your account number at the top of your invoice or log onto your account.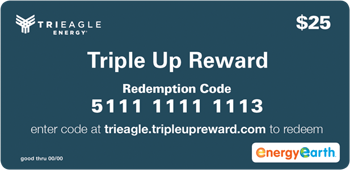 Receive a Triple Up Reward Redeemable for your choice of:
Note: Please allow 1 to 2 billing cycles for your Triple Up Reward to process and be issued.
Terms and Conditions: You must be a TriEagle Energy customer and be issued an account number in order to participate as a referrer. Referral rewards ($25 for each account) are exclusively for new TriEagle Energy enrollments and must be completed online at www.trieagleenergy.com. New enrollments must provide the designated referrer's account number during their enrollment process in order for the referrer to be eligible for rewards. Enrollments are subject to TriEagle Energy's final acceptance. Acceptance shall mean utility accepted and accepted by TriEagle Energy. Enrollments that are rejected due to credit, misinformation, or LDC rejection are not eligible for rewards. TriEagle Energy is not responsible for technical, hardware, software or internet malfunctions of any kind, lost or unavailable network connections, incorrect, incomplete, inaccurate, garbled or delayed enrollments caused by the user or by any of the equipment or programming associated with or utilized in this offer. TriEagle Energy reserves the right, at its sole discretion, to cancel, terminate, modify or suspend this offer for any reason including, but not limited to, infection by computer virus, tampering, unauthorized intervention, fraud, technical failures or any other problems beyond the control of TriEagle Energy. This offer is limited to persons 18 years of age or older. The referrer and the referee must both be active TriEagle Energy customers in order for the referrer to receive their referral reward. Referrals should only be used for personal and non-commercial purposes, and your account number should not be shared unless the recipients are personal friends or family. If any provision in these terms are held to be invalid, void, or unenforceable, such provision shall be struck and not affect the validity and enforceability of the remaining provisions. TriEagle Energy may suspend or terminate this referral program or a customer's ability to participate at any time for any reason. TriEagle Energy reserves the right to review and investigate all referral activities and to suspend accounts or modify referrals as it deems appropriate. TriEagle Energy can update these terms at any time, and without prior notice. If TriEagle Energy elects to modify these terms, it will post the modification to TriEagle Energy's website and/or applications. Your continued participation in the referral program after any such modification shall constitute your consent to that modification. Double Up Rewards are subject to the Double Up Reward Terms & Conditions, which may be accessed here: https://trieagleredeem.energyearth.com/general/rewards/terms-and-conditions